trending_flat
EWP Winners Announced!
WOW ! We had a great turn out! With Peeps from around the world sharing the brilliant ways they would use EWP in their own businesses! (Yesterday a bit of a video meltdown occurred, so this video took an extra day to get up! Ah Technology!)
Many people participated and it was hard to choose 2 of you!
If you haven't been to the comment section to see all who participated CLICK HERE
If I could I would give everyone their own copy of EWP because any business can benefit from using it. My imagination of uses was really only scratching the surface…Thanks to everyone else for opening my eyes to even more possibility and uses for it.


ONTO THE 2 Winners! (DRUM ROLL PLEASE)
Russell who wrote:
"So we ended up talking for about another hour and a half after that, mostly me talking lol, about ways that she could make money doing what she loved.
We talked about several things, such as different ways to monetize the site, collecting leads and building relationships etc.. etc…
At the end though, we ended up narrowing everything down into creating a system that involves doing webinars on the benefits of eating raw food to capture leads and to upsell more extensive webinar series to help people even more, WHICH… is why I've written this short novel.
When I realized what your plugin did, I thought, this can't be coincidence that I just happened to see your email in the enormous clutter that is my inbox."
and
Randy who wrote:
"EWP would be an ideal tool. It will allow us to provide helpful content to countless numbers of people and thus develop relationships and goodwill with our donors. Somewhere in the series we are going to ask the donor to "share" the benfits of these webinars. In other words, if the person watching the webinar, learned enough to save/make a $100, we will ask if they would be willing to share a percentage of that with their favorite charity.
Now, through the use of a structured delivery, we can nuture and help donors help their favorite charities. We have never had the ability to deliver a message that was interesting, repeatable, to a large number of people with a very low cost. With EWP, that problem is solved!"
Everyone was a winner in my book but these 2 really delivered a lot of value on this thread, helped connect with others and stood out.
So Congrats to both of you!
——————————————————————-
For those who didn't win!
I decided (so that everyone who participated could get extra benefit) to offer something special that has super value. Especially after all of the amazing comments coming through.
WE are making available for a limited time, the 1 site license! This is a license that is currently not publicly offered. (If you go to our home page, you will only see the 10 site license or the unlimited commercial license available)



FOR THE NEXT 48 HOURS FROM SATURDAY 12 Noon PST FEBRUARY 9TH
…We wanted to give you the opportunity to get the 1 site license for only $97 dollars.
The one site license allows you to create up to 10 webinars with unlimited attendees and unlimited recurring dates on that webinar.
So you could literally have the same webinar set up over and over to generate leads.
NOW we didn't want to stop there!
Once you click through and start to take advantage of the very special offer…we give you the opportunity to upgrade to the unlimited commercial license or the 10 site license.
IF YOU CHOOSE TO GRAB THE UNLIMITED COMMERCIAL LICENSE WE HAVE SOMETHING SPECIAL FOR YOU!
If you upgrade to the UNLIMITED LICENSE FOR $343 which will give you the unlimited access to the software…
you will get a free pass to a 3 day intensive online webinar training event.
You will learn at this 3 day training (valued at $2497 which will be recorded and transcribed…and available with worksheets for those who can't make the live training) will teach all there is to know about using webinars in your business for building your business!
IT WILL CONSIST OF THE FOLLOWING…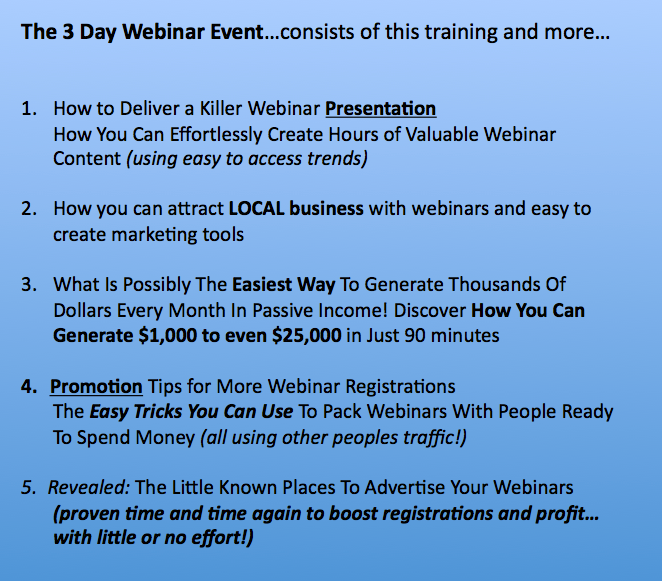 REMEMBER: Only those who come through and upgrade to the Unlimited Commercial License will get the FREE PASS TO THE WEBINAR EVENT.
This offer is only going to be available for the next 48 hours.

Thanks again for participating in our contest!
And please, What other things could we help you with in regards to webinars? Let us know below.
If you didn't get the opportunity to learn the 4 most popular features of EWP, you can watch the video below!